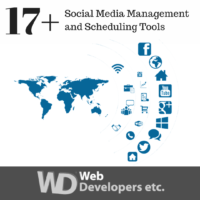 One of the biggest challenges with social media marketing is posting consistently. To really get traction on social media, posting consistently is important to keep your audience engaged.
Fortunately, we can use social media scheduling tools to schedule posts in advance. I've done some research to find a good social media scheduling tool for my own purposes and decided to write this article to share my findings with you.
For my purposes, I wanted a social scheduling tool that worked with Facebook, Twitter, Pinterest, Google Plus, LinkedIn and Instagram. Here are a few tools that you should consider for your social media management.
[Read more…] about 19 Social Media Management and Scheduling Tools