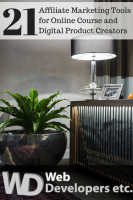 Selling digital products and services is one of the most popular ways for entrepreneurs to make money online. The expenses involved in starting this type of business are small compared to a typical business and the profit potential is high, with some businesses reaching 7-8 figures in sales.
One way digital product creators expand their reach is by launching their own affiliate program and allowing other people to promote it in exchange for a commission. It's a great content amplifier that also earns you more income in the process.
I've been researching affiliate marketing tools that I can use to recruit affiliates for a virtual summit that I'm organizing and here are some of the tools that you may want to consider if you are considering launching your own affiliate program.
[Read more…] about 21 Affiliate Marketing Tools for Online Course and Digital Product Creators