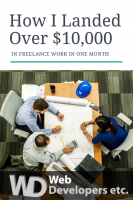 One of the biggest problems that freelancers struggle with is getting enough projects to make a healthy income. Like other freelancers, I got my first projects from referrals from friends.
But what do you do when you run out of referrals?
I turned to Elance, now known as Upwork, to prospect for new clients. A lot of freelancers hate job bidding sites because you have to compete against low bidding workers from offshore countries.
But what a lot of freelancers don't know is that good clients with reasonable budgets post jobs on here too. And if you can find them, you can easily make a full time living freelancing.
In this article, I'll share some tips on how I was able to land $10,000 worth of freelance projects in a month on Elance (now Upwork).
[Read more…] about How I Landed Over $10,000 in Freelance Work in One Month